R.L. Paschal High School
Class of 1969
Letter from the Chairman...
"PantherCARE" Weekend Celebration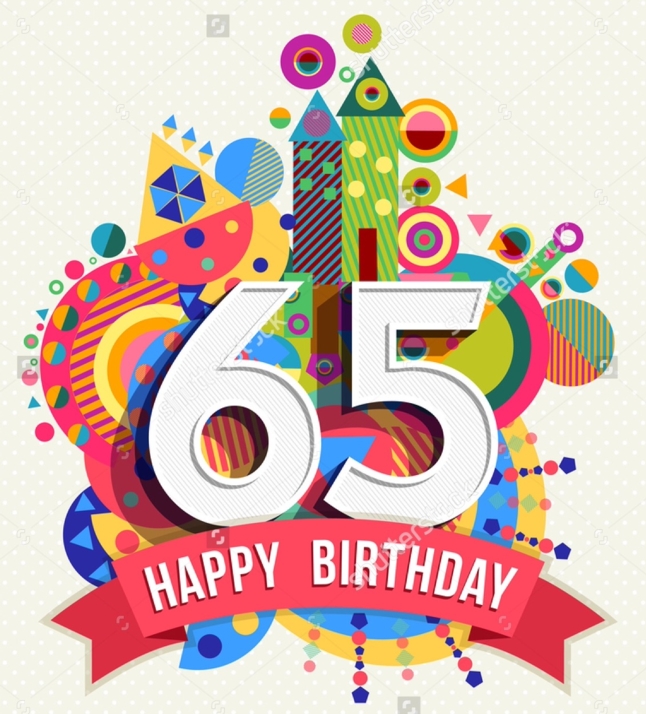 HAPPY 65th BIRTHDAY TO US!
by "PantherCARE" Chairman, Virginia Hayes Presnell
First, Friday was a relaxing, casual evening chillin' at Gator's on Trail Lake Drive.
Plenty of room for us inside. Thanks Jane Short for arranging it
and Joe & Linda Conley Taylor for many Friday photos!
Best part? Having two classmates attend a class event for the first time!
Mary Lee Wright came from Galveston, TX where she is an educator.
Rumi Petty Pettigrew came from Indiana!
Petite Rumi is a recently retired Army Sargent! Power in a tiny package!
We loved catching up with Mary Lee and Rumi.
Raschal prowled on towards the Stockyards...
Saturday found Raschal, Kathy Alexander, and committee PANTHERS in a purple frenzy,
decorating Los Vaquero's in balloons, boas, tiaras, tu-tus, tablecloths…
ALL PURPLE and WHITE!
I think I heard Raschal purring!

It made Raschal smile to be welcomed by big smiles, friendly faces
and a name tag hung around his furry neck. Us, too!
Jan Laird Clay and Nancy Ennen Schaefers were the welcoming chicas at the check-in table.
And you know Raschal must have music.
Ned James is always the PANTHER with the tunes so yes,
we had the music we love from our PHS days.
Tea, water and yes of course Margaritas flowed and perhaps a few cervezas
but these Panthers do not need to loosen up to TALK,
shake hands, hug, laugh, take pictures, and TALK some more.
Lots of Mexican munchies to be had.
After all, we had to build our strength for more TALKING.
AND THEN…
Rick Hill and Nancy Ennen Schaefers led us in a round of "Happy Birthday",
we remembered those we've lost since our 45th Reunion,
and sang the school song.
Committee Chairs were thanked and gifted.
Underwriters were recognized & thanked.
Virginia and Sue had a few words to say.
AND THEN… AND THEN…
OH YEAH!
American Airlines tickets for two anywhere in the Continental US:
winner Gary Solomon who drove over from Dallas
$200 Gift Certificate for Dinner at Del Frisco's:
Steve Regester who came to the party from Columbus, Ohio
Then Raschal gobbled up Gary and Steve!
No No No, Raschal did not do that,
He ONLY bites Heights but you know that!
Gift boxes full of goodies from Olive & Cocoa:
went to Linda Conley Taylor and Donna Humphrey Donnell
Nom, Nom, Nom
LUCKY PANTHERS!
Hope each and every one picked up their gift bag favor as they left.
All door prizes and gift bags with purple PANTHER mugs were
graciously and generously gifted to us by
Deborah Brumbalow Fry and Cathy Patton Edwards.
Are they fabulous Pantherettes or what?!
Before heading out, PANTHERS stopped for PantherCARE cake
gifted to us by Gary Dugger— he's the icing on the cake!
Many thanks to our Photographers,
Steve Martin (Fay Evans-Martin) and
Jim Gibbs (Suzanne Wheeler Gibbs),
Beverly Kostohryz Kellow
and more for all our
PantherCARE Photos!
After a brief respite…
It was on to Ol' South Pancake House Sunday morning.
Gary Dugger treated all to breakfast!
After all PANTHERS were stuffed and caffeinated to the max,
it was time to say —
Do you think Raschal dyes his fur?
I mean, really, he's still pretty purple!!!
Who cares!
Besides nobody said that.
All I heard was...
Hail dear old Paschal—
PURPLE REIGN!!!
See you at the 50th if not before…
Raschal is already busy at work planning the best 50th EVER!
~ Virginia Hayes Presnell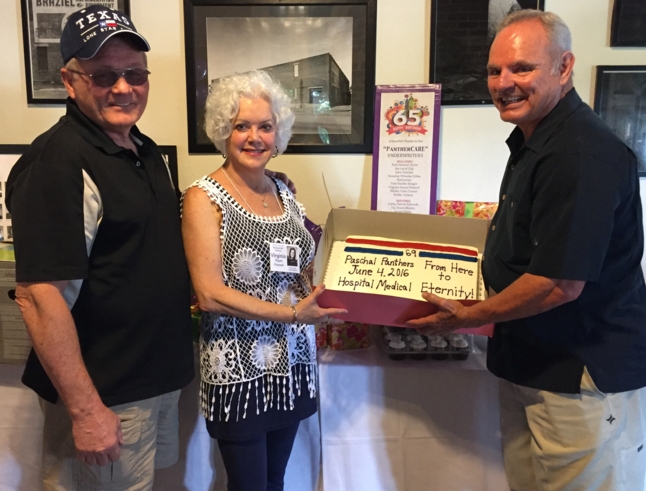 PantherCARE Chairman, Virginia Hayes Presnell
with Paul Stephens and Birthday Cake Chairman, Gary Dugger
If you wish to "Thank" Virginia,
click here and write
Virginia Hayes Presnell
"PantherCARE" Chairman