R.L. Paschal High School
Class of 1969
In Memory
Debbie Winkleman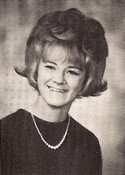 Deborah "Debbie" Ann Winkelman, 54, passed away Wednesday, Nov. 30, 2005, at a local hospital.

She was born Jan. 31, 1951, in Fort Worth, the daughter of Fred and Sketter Winkelman. Debbie grew up on the south side of Fort Worth and was a graduate of Paschal High School. She was employed by International Library Furniture since its conception in the 1980s until she was forced to retired once she became disabled. Debbie had been bound to a wheelchair for the past five years, but despite it all, she still managed to be active at home, either answering the phones or taking care of her grandchildren. She was an active member of Hermann Sons Lodge #33 of Fort Worth and never missed an event.

Survivors: Her parents, Fred and Sketter Winkelman; son, Fred Whitley and wife, Paula; special grandchildren, Mason, Bradley, Autumn, Jason and Micah; aunt and uncle, Frankie and Lyndall Thompson; cousin, Mike Thompson; and a host of family and friends.