R.L. Paschal High School
Class of 1969
In Memory
Deborah Sandefur (George)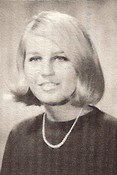 Debbie Sandefur McKenna George had battled a brain tumor for about 7 years when she passed away on September 18th, 2006. ~ Sherry Atnip Lanier
Debbie Lee George, 56, died peacefully at home surrounded by her loving family Monday, Sept. 18, 2006.
Funeral: 10 a.m. Friday at Lucas Funeral Home, 1321 Precinct Line Road, Hurst. Burial: Private for family only, in Laurel Land Memorial Park, Fort Worth. Visitation: The family will receive friends 6 to 8 p.m. Thursday at the funeral home.
Debbie enjoyed and was very active in crafts.
Survivors: Husband, Jimmy George; daughters, April Wiesner and Katie Kerley; sisters, Susan Smith and Lesa Martin; brother, Steve Sandefur; and three grandchildren.
Fort Worth Star-Telegram (TX)
Date: September 20, 2006