R.L. Paschal High School
Class of 1969
In Memory
Rick L Rotenberry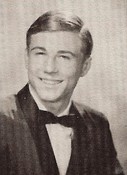 Rickey Lee Rotenberry, 58, of Burleson, a sales representative for Glazer's Wholesale Distributors, died Monday Dec. 28, 2009, in Fort Worth.
Rick was born Oct. 13, 1951, in Gorman to Wayne Lee and Billie Maxine Roberts Rotenberry. Rick married Jeannette Griffith on Feb. 14, 1970, in Fort Worth. He was loving husband, father and grandfather. Rick loved spending time with grandchildren, family and friends, dove hunting, joking around, taking trips and cooking beans and hot links. He was preceded in death by his father. Rick was a longtime member of The Church at Burleson. Special thanks to the nurses and staff on the 7th floor of Harris Hospital Downtown Fort Worth and Hayley and Jennifer on the 2nd floor. Also, a heartfelt thank you to Dr. Charles Andrews.
Survivors: Wife, Jeannette Rotenberry of Burleson; daughters, Stacy Rattan and husband, Jeff, of Burleson, Nikki Hillin and husband, Andrew, of St. Louis, Mo.; mother, Billie Rotenberry of Garner; brother, Mike Rotenberry of Kennedale; sister, Judy Harper and husband, Monty, of Fort Worth; aunt, Imogene McCurley of Mineral Wells; grandchildren, Jacob, Annabelle and Aubree Rattan, Cole, Kylee and Aidan Hillin; numerous nieces, nephews, extended family and friends.
Mountain Valley Funeral Home
Burleson, TX
Fort Worth Star-Telegram (TX)
Date: December 31, 2009