R.L. Paschal High School
Class of 1969
In Memory
Joe Pacheco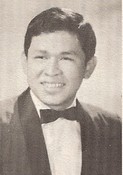 Joe A. Pacheco Jr., 55, a beloved son and brother, went to be with the Lord on Monday, Jan. 8, 2007.
Funeral: 10 a.m. Thursday at St. Peter The Apostle Catholic Church in White Settlement.
Joe was born May 18, 1951, to Joe and Lupe Pacheco. He was a 1969 graduate of Paschal High School and a 1974 graduate of the University of Texas at Arlington. Joe was a past detachment commander of the Sons of the American Legion and a member of the American Legion Post 569 Golf Association and the Sons of the American Legion Squadron 569.
Survivors: Mother, Lupe Pacheco; sisters, Hortencia Samaniego and Mary Helen Gunter; brothers, Donald, John and Fernando; and several aunts, uncles, cousins, nephews, nieces, great-nephews and great-nieces.
Sadly his father Joe A. "Pappa" Pacheco, Sr. died just one day after him.