R.L. Paschal High School
Class of 1969
In Memory
Betty Northcutt (Richards)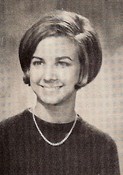 Born in Cleburne, Betty Joan was the daughter of Blanche Loper and Jesse Leo Northcutt Jr. While growing up in Fort Worth as a member of University United Methodist Church and a large Christian family, she was said to have been the most "spirited" one in the bunch.
Betty was a 1969 graduate of R.L. Paschal High School and received her B.A. in English from the University of Texas at Arlington in 1973. She taught school until she married and raised her family. For the past 10 years, she successfully ran the family business, Armology of Ft. Worth/Jar-Tex Industries, and happily enjoyed her life.
Her interests included music, dancing and art. She took great pleasure in making her home, yard and garden a beautiful, hospitable place. Betty was a loving and giving person whose devotion to her family and friends were most important to her. Her laugh, smile, generosity and love will be missed, but not forgotten.
Betty passed away peacefully in a Dallas Hospital on Saturday, December 2, 2006.
In addition to her parents, Betty was preceded in death by her husband, Jack A. Richards; a sister, Susan Schafer; and twin brothers, Robert and Charles Northcutt.

Survivors: Fiance and companion, Kris D. Morris of Arlington; children, Joan Marie Richards-Austin and her fiance, Paul Gleim, of Euless, David Richards and his wife, Lauren, of Arlington and Jessica Wood of Nevada, Iowa; cherished grandchildren, Harmony Austin, Cody Randals and Jacob and Julia Richards; brother, Jesse Leo Northcutt III and his wife, Joyce, of Dublin, Ireland; sister, Jeanne Northcutt Korndoerfer and her husband, Carl, of Racine, Wis.; aunts; and several nieces, nephews and cousins.