R.L. Paschal High School
Class of 1969
In Memory
Monica Dunton (Kirk)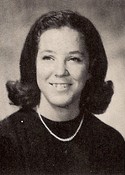 Monica Dunton Kirk, 54, died Friday, June 24, 2005, surrounded by the love of her friends and family.
Funeral: 11 a.m. Tuesday at Thompson's Harveson & Cole Funeral Home, where a visitation will be held from 6 to 8 p.m. Monday. Burial: Mount Olivet Cemetery.
Memorials: A gift in her memory may be made to the Sammons Center, Baylor University Medical Center at Dallas, 3500 Gaston Ave., Dallas 75246.
Monica Kirk was born March 28, 1951, in Oklahoma City, Okla., to Harry and Midge Dunton. A 1969 graduate of Paschal High School, Monica was an avid golfer. She was a wonderful and loyal friend, diplomatic and loving to all who knew her. She worked at Snap-On Tools, where she became an important part of the office family, and a member of everyone's extended family. She was a devoted mother, sister, daughter, aunt, godmother and cousin. Her smiles, sense of humor and unconditional love and support will be missed by all.
Monica was preceded in death by her husband of 29 years, Jim Kirk, who died in 1999.
Survivors: Daughters, Lisa Anne Zwerver and her husband, Bart, and Teresa Kirk Brown and her husband, Jake; sister, Denise Middleton; brothers, Christopher, Peter, Paul and Mark Dunton; Jim's mother, Peggy Kirk; his sister, Nancy Kirk; and numerous nieces, nephews, cousins and extended family members.
Fort Worth Star-Telegram (TX)
Date: June 26, 2005