R.L. Paschal High School
Class of 1969
In Memory
Barbie Clark (Burrell)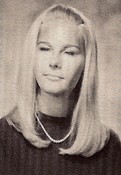 Barbara Anne Burrell, 59, passed away on December 7, 2010 in Kingwood, TX. Growing up Barbara loved the Canada snow, horseback riding and her two best friends, Lynn and Terry. After graduating high school she attended Fort Worth Texas Christian College where she received her Associates degree.
Barbara worked as a Teachers aid at Park Lakes Elementary School and was a member of the P.E.O. and the Blue Star Moms. She enjoyed arts and crafts of all kinds, photography, scrap-booking, painting, making jewelry, raising birds and keeping in contact with everyone.
Barbara is preceded in death by her father Ward Clark and she is survived by her husband, Joseph Burrell, daughter, Amanda Burrell, sons, Kirston Otis and Matthew Burrell, mother, Mary V. Clark and her brother, Lane Clark.
Pallbearers: Matthew J. Burrell, Kirston Otis, Lane Clark, Len Burrell, Dan Burrell, Matt Burrell Gary Clark and Glenn Shellhouse. In lieu of flowers the family asks that memorial donations be made to Blue Star Moms or The U.S.O.
Arrangements under the direction of Kingwood Funeral Home, Kingwood, TX.
From Humble ISD:
Park Lakes Elementary has lost one of its most respected and well liked staff members, Barbie Burrell. She passed away suddenly at her home in Kingwood on Tuesday. Barbie was a pre-kindergarten aide who sincerely loved her students. She previously worked at Creekwood Middle School.

Burial:
Brookside Memorial Park
Houston, TX