R.L. Paschal High School
Class of 1969
In Memory
Becky Boles (Hendricks)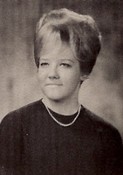 Becky Hendrix, 59, passed away Thursday, Feb. 25, 2010, due to a sudden heart attack.
Funeral: 1:30 p.m. Monday in Mount Olivet Chapel. Interment: Mount Olivet Cemetery.
Becky was born Jan. 13, 1951, in Fort Worth to Melba Lou and Alfred Blanton Boles. She graduated from R.L. Paschal High School in 1969. She worked as a volunteer for the city of Forest Hill, and she was a member of Southwest Christian Church.

Becky was preceded in death by a son, Blanton Owen Hendrix, and her parents.
Survivors: Husband, Roger Hendrix; daughters, Dawn Davis and husband, Charles, Gina Hendrix and Becky Hendrix and husband, Paul Barron; son, Roger Hendrix Jr.; brothers, Joe Boles and Jimmy Charles Stiger; sister, Mischia Kelley; and grandchildren, Johnathan Davis, Laura Davis, Ariel Davis, Shelby Davis and Elizabeth Barron.
Published in Star-Telegram on February 28, 2010