R.L. Paschal High School
Class of 1969
In Memory
Joe Gracey VIEW PROFILE
Joe Gracey
November 14, 1950 - November 17, 2011
After a well-spent life defined by a series of reinventions, each more outrageous and 'way cooler than the previous one, Joe Gracey has left the building - this place we call earth.

Born in Fort Worth on November 14, 1950, Joe distinguished himself as a communicator at an early age. He built his own radio studio in the family attic in sixth grade, mowed lawns to get his first guitar, played in teen bands alongside fellow Fort Worthers Stephen Bruton and T-Bone Burnett, and projected gravitas and authority as a veteran newsman and familiarity and intimacy as a country music disc jockey for KXOL-AM and FM when the 16 year old wasn't attending classes at Paschal High School. His mother drove him to work at the radio station. Like many other young Texans of his generation, he gravitated to Austin to attend the University of Texas where he graduated with a degree in American Studies while moonlighting on Austin's Top 40 radio station, KNOW-AM, and writing the first rock music column for the Austin American-Statesman, immediately overstepping his assigned category by writing about country and folk music too, focusing on the unique country-rock musical hybrid that was incubating in Austin. In 1974, he joined KOKE-FM in Austin, the first progressive country radio station in the world. Blessed with a warm, full-bodied voice with enough of a lingering drawl to leave no doubt where he came from, Gracey became an intimate friend to strangers who discovered they could learn a few things about music by listening to the radio; unlike his broadcasting peers, Gracey was fixated on what he said as much as how he said it. Smart and a smartass both, he was a pillar of a burgeoning music community on the verge of being discovered nationally and internationally. He welcomed music fans to some of the most exciting and eclectic music being created as one of the voices who did radio commercials for the storied Armadillo World Headquarters. It was Ol' Blue Eyes, as he called himself, who coolly and casually opened his microphone so Willie Nelson and his friend Kris Kristofferson could perform an impromptu concert for listeners at home. Gracey not only played Ernest Tubb and his Texas Troubadours, he took the time to explain ET's significance and line out Tubb's hip bona fides for a generation that had previously ignored their parents' and grandparents' music. He turned on music lovers to exotic sounds in their own backyard such as Tex-Mex conjunto music as articulated by his friends Doug Sahm, Ry Cooder, and Flaco Jimenez; and western swing, the almost-forgotten Made In Texas country-jazz hybrid popularized in the 1930s, kickstarting its revival by putting Asleep at the Wheel and Alvin Crow into heavy rotation. Gracey played a critical role defining Super Roper Radio, as KOKE was known, demonstrating how the Rolling Stones and Gram Parsons were related to George Jones and Bob Wills and the Texas Playboys. In that respect, he was as influential as Willie Nelson, Austin's musical godfather, in bringing the hippies and the rednecks together through the common love of music. With Gracey as program director, Billboard magazine crowned KOKE-FM as "Trendsetter of the Year." Gracey's trendspotting abilities earned him the role as talent coordinator for the new "Austin City Limits," now the longest-running music series on American television, when the series started in 1976. Through Gracey, the remaining Bob Wills' Texas Playboys, Flaco Jimenez y Su Conjunto, and Clifton Chenier and his Red Hot Louisiana Zydeco Band performed for national television audiences for the first time. His byline continued appearing in the Austin Sun and the literary country music journal Picking Up the Tempo. In the summer of 1977, inspired by his mentor Cowboy Jack Clement, he left KOKE-FM a few weeks before the station's format switched, and headed downstairs to the basement of the KOKE building where he fashioned a four track TEAC recorder and two windowless offices into the funky, duct-taped recording studio known as Electric Graceyland. The studio was the site of some of the first recordings of future blues legends Stevie Ray Vaughan and Miss Lou Ann Barton; The Skunks, Austin's first punk band; and Tex-Mex rockers Joe "King" Carrasco and the Crowns. Gracey also recorded the demo that scored the Fabulous Thunderbirds their first record contract and worked the dials for Lubbock songster Butch Hancock and his Dixie's Bar and Bus Stop cable television music series. He recorded Stevie Vaughan and Barton and the band Double Trouble at Clement's Nashville studio. He used Electric Graceyland to collaborate musically with his partner in crime, Bobby Earl Smith, as the Jackalope Brothers. Gracey and Smith also did radio promotion for Alvin Crow & The Pleasant Valley Boys while Gracey often opened shows for Crow with his brother Bill as The Amazing Graceys. It was during this flurry of recording and promoting that Gracey was dealt the lousy hand of a cancer diagnosis that eventually robbed him of his gifted voice. Only 27, Gracey fought the hard fight medically while simultaneously adapting. A Magic Slate kids' erasable writing tablet tucked under his arm became a Gracey accessory so he could scribble a quick response to any questions and allow him to engage in conversations, followed by the soft, barely-audible rip as he cleared the pad to erase the message once his words were understood. In 1979, his friend TJ McFarland introduced him to the love of his life, Kimmie Rhodes, a singer-songwriter from Lubbock, as well as a playwright, painter, writer, and all-around creative force. They married in 1984 and settled in Briarcliff where he helped raise Kimmie's sons from a previous marriage, Gabe and Jeremie Rhodes, and their daughter, Jolie Morgan Goodnight Gracey. A family band emerged with Gracey playing bass and Gabe, a talented producer in his own right, who absorbed all the nuances of the electronic recording art from Joe, playing guitar. Kimmie and their neighbor Joe Sears started writing plays together and Gracey joined the fun as an actor, playing the part of the skeleton barkeeper in the play "Windblown," and the role of the clown in "Small Town Girl," in addition to other performances. He also worked the audio console at nearby Pedernales Studios for a number of years and in 1996 was at the controls for Nelson's groundbreaking album, Spirit, which inspired Nelson to redefine his live sound. Gracey and David Zettner built the small, simple recording studio in the back of Willie's Luck World Headquarters saloon where Willie liked to hold court and make music at the spur of the moment, which yielded the albums, Picture in a Frame, Willie's 2003 album of duets with Kimmie, and the Grammy-nominated collaboration between Willie and Ray Price, Run That By Me One More Time. Rhodes and Gracey's shared love of food and fine wine (he learned how to keep boudin warm on his Cadillac's engine returning from a trip to visit Clifton Chenier in Lafayette, Louisiana), along with numerous European tours by Rhodes launched another career for Gracey - food writer - as championed by their friend Colman Andrews, the editor of Saveur magazine, for whom Gracey did several pieces. Joe and Kimmie also taught cooking classes together. Their food adventures and Kimmie's continued popularity in Europe eventually led to the couple's renovation of a small 1,000 year old stable-farmhouse in the Languedoc province of France. Gracey never stopped creating, and he started a blog, Letters from Graceyland (Graceyland.blogspot.com) to share his latest adventures with readers. Cancer-free for 30 years, the beast reentered his life in 2009. The bad news was accompanied by good news though. Doctors at M.D. Anderson Hospital would embark on experimental surgery that led to a partial restoration of his voice. But the new cancer was joined by other cancer, leading to several months of treatments in Houston. Afterwards, Joe and Kimmie were able to spend some weeks together in their French place again with friends and family before returning to Texas one last time. Sickness never defined Joe's life. It was an irritant and obstacle to be overcome so he could pursue his many interests. He defined it; it didn't define him. And although so much of his professional career revolved around music, his life was much more than that too, as his extensive network of family and friends that spanned the globe would attest to. They all knew that Gracey's presence could never be ignored. He was not the kind of person to let that happen. Which is why despite his unplanned departure, he wanted his friends, family, and all the strangers he never met to hold close to their hearts the advice he dispensed whenever he signed off from another shift on the radio: "Drink lots of water, stay off your feet, and come when you can."

Joe is survived by his wife Kimmie Rhodes Gracey, daughter Jolie Gracey Musick and husband Jason; sons Jeremie Rhodes, Gabriel Rhodes and wife Carmen; grandchildren Louis and Ruby Rhodes, Isaac and Isabella Bryson; brother Bill Gracey and wife Cathy; nieces Christy and Kate Gracey; and, Louis' mother, Jamie Rhodes. The family is grateful for the loving care and attention provided by M.D. Anderson Cancer Center. In lieu of flowers donations may be made to the Nobelity Project (www.nobelity.org) or M.D. Anderson Cancer Center (www.mdanderson.org).
A public celebration of Joe's life will be held on December 4, 2011, at 2:00 p.m. at the Austin City Limits Moody Theater, 210 W. Willie Nelson Boulevard, in downtown Austin, Texas 78701. Y'all come.
Published in Austin American-Statesman on November 27, 2011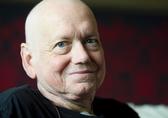 Joe Gracey, a seminal figure in the development of Austin's eclectic music scene, died Thursday in Houston, finally succumbing to the disease that took his voice decades ago.
Gracey, who turned 61 on Monday, was a music producer, writer and bass guitar player with his wife Kimmie Rhodes' band. He began making his mark in Austin in the 1970s as a young radio disc jockey with a preternaturally deep voice who took a new format called progressive country music and ran with it.
"To me, his heart resonated to the ears of Austin," said his longtime friend, Austin attorney and musician Bobby Earl Smith. "He could make you feel like he was playing that song for you."
In his book, "The Incredible Rise of Redneck Rock," author Jan Reid called Gracey a visionary who "played a compelling mix of Texas musicians, the Allman Brothers, Hank Williams Jr." from a playlist that "was brash, seamless and almost all Southern: Listen up here, this was the direction country music was going, and Nashville better listen up and pay attention."
Gracey also left his imprint on some of Austin's most iconic musical institutions : He was the first talent coordinator for Austin City Limits and the voice for Armadillo World Headquarters radio ads.
In 1977, Gracey was stricken with oral cancer and underwent a series of painful surgeries at M.D. Anderson Cancer Center in Houston that would cost him the ability to speak and sing, but saved his life. He married, had a family and built a career producing and playing music. He was cancer-free until 2009, when a small lesion appeared in his mouth and was successfully treated, again at M.D. Anderson.
Then he was diagnosed with metastatic cancer of the esophagus in January, a development "that pretty much throwed me from my hoss," as he wrote in his "Letter from Graceyland" blog. "But as I have said before, you do what you must do to survive."
In an Aug. 29 American-Statesman profile of Gracey, Smith talked about his friend's determination: "When we were on the road with the band and we took a wrong turn someplace, he never wanted to turn back. He would always say, 'Let's just go on. Make a new road.'"
In late September, Gracey and Rhodes took a break from his chemotherapy and radiation treatments to spend time at their second home in France, a renovated former stable, visiting with family and friends and watching the fall wine harvest. Tests showed his cancer had retreated.
"He drove again for the first time in a year," Rhodes wrote in an email. "He bought a grill and made fajitas for friends who came to visit from Spain. He had a good time. He won."
Then he fell ill again and the couple flew back to Houston and the hospital. Gracey died there early Thursday morning.
Survivors include his wife, his daughter Jole, and stepsons Gabe and Jeremie Rhodes. A memorial service is planned for December.
Click here to see Joe's last Profile entry.