R.L. Paschal High School
Class of 1969
In Memory
Susan Briggs (Zeig)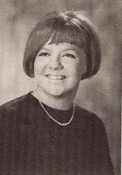 Susan Zeig Briggs, 48, a registered nurse, died suddenly Wednesday, Oct. 13, 1999, in Fort Worth after a lifelong battle with diabetes.
Funeral: 3:30 p.m. Saturday at Greenwood Chapel. Burial: Greenwood Memorial Park.
Memorials: American Diabetes Association or the Kidney Foundation.
Susan Zeig Briggs was born Aug. 5, 1951, in Fort Worth. She will be remembered by all who knew her for her caring spirit that enriched her career as a certified hospice nurse. She obtained her BS in RN from UTA School of Nursing in 1978.
Survivors: Son, Christopher Zeig of Weatherford; daughter, Stacey Zeig Turner of Weatherford; mother, Bobbie Briggs of Fort Worth; brothers, Clinton G. Briggs III of Fort Worth, Charles Briggs Sr. of North Bend, Ore.; sister, Carolyn Cheney of Charleston, Ore.; grandchildren, Jason and Erin Turner; and several nephews, nieces, cousins, aunts and uncles.
Burial:
Greenwood Memorial Park
Fort Worth, TX
Fort Worth Star-Telegram (TX)
Date: October 16, 1999