R.L. Paschal High School
Class of 1969
In Memory
Ted A. "Tommy" Tomlinson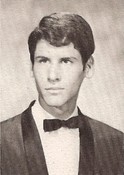 Ted "Tommy"Tomlinson Jr., 48, an owner of a printing company, died Friday, April 23, 1999, in Orlando, Fla.

Tribute: 8:30 p.m. Sunday at J & J Blues Bar at 937 Woodward.

Memorial Service: 3 p.m. Monday in Greenwood Memorial Park.

Memorials: The American Heart Association or the Charity of Choice.

Ted Tomlinson Jr. was born Oct. 26, 1950, in Fort Worth, the son of Ted and Francis Tomlinson. Tommy married his high school sweetheart, Belinda Taylor June 24, 1972, in Fort Worth at University Christian Church. They were parents of one daughter, Hilary Ann.

Tommy attended Paschal High School and Texas Christian University.

Tommy served his country in the United States Air Force. Tommy had a lifetime affiliation with the printing business. He will long be remembered for his contributions and expertise in the industry. He was a member of the Association of Directory Publishers and the Yellow Pages Publisher Association.

Tommy's many friends will always remember his passion and conviction for life. Tommy lived life to the fullest, whether on his Harley-Davidson or listening to his favorite blues music or enjoying the company of his friends. He will be missed.

Survivors: Wife, Belinda Tomlinson of Fort Worth; daughter, Hilary Tomlinson of Fort Worth; father and mother, Ted and Francis of Fort Worth; sister, Kathy Womack of Fort Worth; two brothers-in-law; and three nieces; and one nephew.