R.L. Paschal High School
Class of 1969
In Memory
John Terrell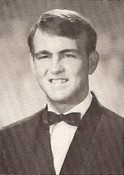 John Lennox Terrell, 48, a security officer, passed from this earth to join his Heavenly Father on Monday, Jan. 11, 1999, in Fort Worth.
Funeral: 2 p.m. Wednesday at Woods Chapel Baptist Church in Arlington. Burial: Johnson Station in Arlington.
John Lennox Terrell was born Aug. 25, 1950, in Houston. He moved to Fort Worth in 1956 and had lived in Arlington for 19 years. He was employed by Merchants Security Services of Fort Worth, servicing federal buildings. He graduated from Paschal High School in Fort Worth and earned his B.S. degree from Northwood University, graduating with honors in May 1998. He was a member of Woods Chapel Baptist Church.
Survivors: His loving wife of 21 years, Annette; sons, Kyle, a student at Ouachita Baptist University, and Kevin and Kollin of Arlington; mother, Virginia Terrell of Arlington; brothers, Ralph and his wife, Esther, of Arlington and Brian and his wife, Nancy, of Dallas; sister, Carolyn and her husband, Jon Coatoam, of Ohio; mother-in-law, Ann Bunch of Grand Prairie; three nephews; one niece; and a host of friends.
Fort Worth Star-Telegram (TX)
Date: January 13, 1999