R.L. Paschal High School
Class of 1969
In Memory
Rosemary Moudy (Reutlinger)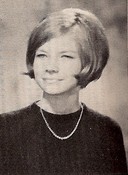 Rosemary Moudy Reutlinger, 43, daughter of Texas Christian University Chancellor Emeritus Dr. and Mrs. James M. Moudy, died of cancer Thursday at home.
Funeral: 2 p.m. Tuesday at University Christian Church, Fort Worth, where she was a member. Burial: Greenwood Memorial Park.
Mrs. Reutlinger, a Durham, N.C., native, was reared in Fort Worth. She had lived in Houston for 15 years. She was a graduate of Paschal High School and attended Texas Christian University. She studied computer science and interior design. She became skilled in graphics, desktop publishing and the design of homes. She received awards in each of those fields. She moved to Houston to manage a small business.
Memorials: The Hospice at Texas Medical Center, Houston 77030; the M.D. Anderson Cancer Center, Houston 77030; or a charity of choice.
Survivors: Son, Eric Clayton Moore of Cannon Air Force Base, N.M.; parents, Dr. James M. and Lucille Lauritzen Moudy of Fort Worth; and sister, Linda Rhea Moudy Pickel of Longwood, Fla.
Fort Worth Star-Telegram (TX)
Date: January 8, 1995