R.L. Paschal High School
Class of 1969
In Memory
Michael Lattimore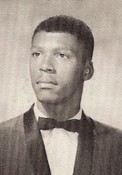 Michael Wayne Lattimore, an environmental attorney for Amoco Production, died on August 2, 1991. He was 39.
Graveside service was held Aug. 6 at Memorial Oaks Memorial Park in Houston.
U.S. District Judge David O. Belew described Mr. Lattimore as a "brilliant young man, and the legal profession has suffered a great loss. I admired and respected him a great deal."
Mr. Lattimore grew up in Fort Worth and graduated with honors from Paschal High School in 1969. He received a scholarship to Dartmouth College, but a year later transferred to the University of Texas at Austin, where he received a bachelor of science degree with honors in 1973.
He received his master's in arts and doctor of jurisprudence degrees at UT in 1977. He also attended the Sorbonne University in Paris and was fluent in French.
Tom Law, a Fort Worth attorney, said Mr. Lattimore served as president of his senior class in law school and made the dean's list.
"He was a fine lawyer, and I am distressed by his untimely death.
He had a bright future ahead of him, and I was pleased to have been able to help him, " Law said.
Mr. Lattimore traveled extensively and had toured all major cities in the United States, Canada, Mexico, the south of France, England, Switzerland, Spain, Italy, Holland and Scandinavian countries.
He also had visited the grave of Princess Grace Ranier in Monaco.
Failing health forced him to cancel a trip to China in April.
He had served on the board of directors of the University of Texas at Austin Ex-Law Alumni Association and was a member of Lakewood Church in Houston.
Survivors include his mother, Alice Z. Grays, and grandmother, Costello Zachary, both of Fort Worth.
Fort Worth Star-Telegram (TX)
Date: August 25, 1991