R.L. Paschal High School
Class of 1969
In Memory
Ann Huff (Wilkerson)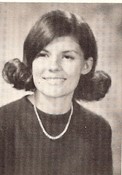 Margaret Ann Wilkerson, 52, a certified project manager at Lockheed Martin, died Friday, May 7, 2004 in Fort Worth.
Born June 11, 1951 in Kermit to David H. and Annie Rose Boyd Huff. She received her B.S. in Mathematics and Computer Science and an M.S. in Computer Science from UT Arlington, where she was a Tri Delta. She earned an M.B.A. in Finance from TCU.
Ann was employed by Federal Reserve Bank of Dallas, Frito Lay, Dunn & Bradstreet, Viasoft and IBM.
In her free time, Ann earned her pilot's license, loved scuba diving and western dancing. She was preceded in death by her husband, John Wilkerson and her father, David H. Huff.
Survived by her mother, Anne Huff of Arlington; twin sister, Jan Huff Taborsky of Arlington; sisters, Sallye Nichols of Plesanton, California, Susan Dietrich and many good friends and acquanintances; and nieces and nephews who loved Ann as their second mother.
Mass of Christian Burial: 2 pm Monday at Most Blessed Sacrament Catholic Church, the Rev. Joseph Scantlin celebrant. Burial at Mt. Olivet Cemetery. Visitation: the family will received guests at 4 pm when a rosary will begin.

Inline Image Not Displayed