R.L. Paschal High School
Class of 1969
In Memory
Patti Clampitt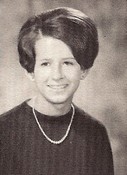 Patti Clampitt, 53, a real estate investor, passed away Sunday, April 3, 2005, at home.
Funeral: 1:30 p.m. Thursday in Mount Olivet Chapel.
Patti was born April 16, 1951, in Fort Worth.
Survivors: Boyfriend, Arthur Griffin; father, P. Walton Clampitt, both of Fort Worth; brother, Jim Bob Clampitt and wife, Cathy, of Sunset; sister, Judy Ann Davis and husband, Jerry, of Dallas; aunts, Charline Johnston and husband, Cliff, and Lorena Moore and husband, Bill, all of Arlington; and numerous nieces, nephews and cousins.
Burial:
Mount Olivet Cemetery
Fort Worth, TX
Fort Worth Star-Telegram (TX)
Date: April 6, 2005