R.L. Paschal High School
Class of 1969
In Memory
Richard Adcock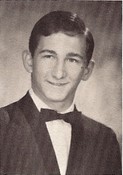 Richard Seth Adcock, a self-employed advertising copy writer and desktop publisher, died April 2 at his Fort Worth home. He was 40. Born April 15, 1951 in Fort Worth.
A memorial service was April 4 at Laurel land Funeral Home in Fort Worth.
Mr. Adcock was a lifelong Fort Worth resident. He was a published fiction writer and poet and was a member of the Trinity Arts Writers' Association and the Oklahoma Federation of Writers Association.
He received numerous awards in creative writing competitions.
A Richard S. Adcock Scholarship Fund to help other creative writers has been established and contributions may be made to the fund in care of J.G. Spiegel, 3750 W. Fourth St., Fort Worth 76107.
Survivors: Sister, Lavonna Starnes of Fort Worth; brother, Walter Adcock of Fort Worth; and grandparents, Clifton and Goldie Carlisle of Houston.
Fort Worth Star-Telegram (TX)
Date: April 18, 1992