R.L. Paschal High School
Class of 1969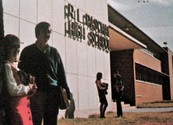 Happy Spring Time!
Join us at the upcoming 45th Reunion Planning Meeting, Thursday, May 1st
(Click to RSVP)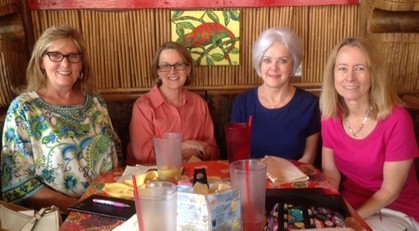 Suzanne Wheeler Gibbs, Sue Jacobson Bailey, Virginia Hayes Presnell & Fay Evans-Martin
at Hula Hut in Austin to discuss plans for the 45th Reunion.
Suzanne & Fay agreed to put name tags together for all events!
Do they know you're coming? Register and they will!
PHS'69 Sweethearts still dancing after all these years!
(Click on photo or HERE to view video)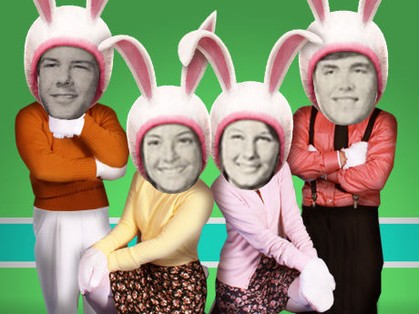 Ron & Nita Hightower Culbertson with Dub & Cathy Munson Ambrose

Are you curious who's coming so far?
Easy, just click Who's Coming So Far?
Keep checking back with us!
Remember, the "EarlyBird" deadline is April 30th)
________________
Welcome to the official website for
Paschal High School - Class of 1969
Have YOU joined our class website?
If not, you won't see all the pages!
Find your name in Classmate Profiles, click on it,
and follow the easy instructions.
Confirm the "Opt-In" email so your browser will recognize our emails as legitimate.
Don't have a computer? But you want to be included on our website!
PRINT & MAIL this "Profile Page Questionnaire" FORM
and we'll create a private, secure, PROFILE PAGE for you!
45th Reunion Weekend
June 20-22, 2014
Registration is happening NOW!
*"Dutch Treat" Gathering at RJ Gator's
*Tour of Paschal and Dedication of the
"Shirley Yates Turner - Class of 1969 Tennis Center"
*45th Reunion Party at the 'Portraits of the Wild'
Art Gallery at the Zoo
_________________
Convenient Links:
To PRINT & MAIL-IN your 45th Reunion Reservations, click HERE
To BOOK A HOTEL ROOM with the rest of us, click HERE
To REGISTER ON-LINE for Reunion Weekend, click HERE
Click to SEE A SAMPLE "THEN & NOW" slide;
then click to email your "NOW" photo today!

_____________
45th Reunion Weekend Underwriters
(as of 4/14/2014)
"The Cat's Meow"
(includes 2-Zoo Reunion Tickets)
Shirley Yates Turner
"Royal Purple"
(includes 2-Zoo Reunion tickets)
Virginia Hayes Presnell
"Deep Purple"
(includes 2-Zoo Reunion tickets)
Jan Laird Clay
Suzanne Avirett & Edward Davis
Noel Ice
James Nader
Sandy Walker Riney ($350)
Nancy Ennen Schaefers ($300)
Ron York ($300)

"Panther Pride"
Pam Steinert Ayres
Fay Evans-Martin
John Fletcher
Robert Irvin
Gary Owen
Trey Thompson ($150)
"White Lightening"
Carey Blackwell
Chris Callaway
Deborah Brumbalow Fry
Ginger Cunningham Nicholas
Gary Solomon
Chris Sumrow

"Paw Prints"
Pam Ryan Ehly
Rita Carb Fagan
Craig Parker
Kirk Ray
Mike Ryan
These Donations UNDERWRITE our 45th Reunion Weekend expenses
so the Individual Ticket price is as low as possible!
Our REUNION would not be possible without these Generous Donors!
We greatly appreciate their support!
45th Reunion Planning Committee met March 20th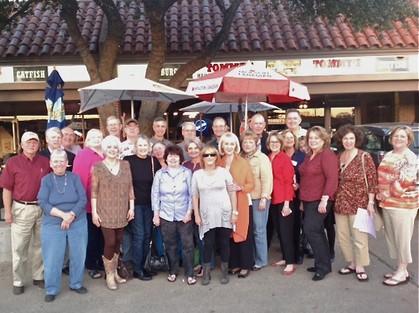 (Front row) Judy Johnson Fowler, Virginia Hayes Presnell, Deborah Brumbalow Fry, (the head of) Kim Massey Harlan, Jan Huff Taborsky, Beverly Kostohryz Kellow, Debbie Winn Schroeder, Jan Laird Clay, Kathy Alexander, Sue Jacobson Bailey, Cissy Ramsel Birdseye, (the head of) Karen Sharp, Jane Short, Vicki LeDoux Norris, Diane Stroeck Hughes. (Back row) David McMillan, Wes Stripling, Ron York, Nancy Ennen Schaefers, Mike Ryan, Steve Pruitt, Gary Solomon, Sidney Goldin, Howard Katz, John Penn, Mark Sebastian. (Ned James had to leave early. Shirley Yates Turner was in San Clemente for a brief R&R after chairing the Go Red Luncheon event!)
To see more Reunion Meeting photos, click HERE.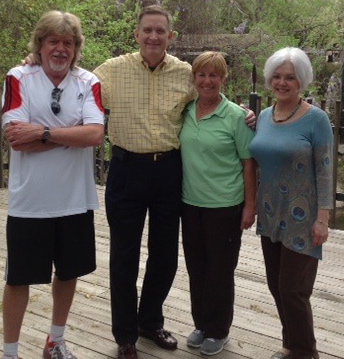 At the Zoo: Ned James, Mark Sebastian, Shirley Yates Turner and Virginia Hayes Presnell
met with Zoo staff to discuss details for the 45th Reunion June 21st!
45th Reunion Planning Committee ...to date!
(The list is growing! Hope you can come to at least ONE meeting!):
Shirley Yates Turner, 45th Reunion Co-Chairman
Virginia Hayes Presnell, 45th Reunion Co-Chairman
Bruce Baughman
Cissy Ramsel Birdseye
Jan Laird Clay
Steve Cocanower
Bill Collins
Lisa Francis Day
Gary Dugger
Floyd Earwood
Cathy Patton Edwards, Decorations
John Fletcher
Debbie Brumbalow Fry, Decorations Chairman
Robert Grace
Trey Harper
Diane Stroeck Hughes
Robert Irvin, our 2 chairmen's doctor
Sue Jacobson Bailey, Website
Ned James, Music/Video Chairman
Harper Jones, "Classmate Search"
Howard Katz
Beverly Kostohryz Kellow, Decorations
John Laidlaw
David McMillan
James Nader
Steve Pruitt
Norton Rosenthal
Mike Ryan, "Classmate Search"
Nancy Ennen Schaefers, "Classmate Search" Committee Co-Chairman
Debbie Winn Schroeder
Mark Sebastian, "Classmate Search" Committee Co-Chairman
(Click on & email Nancy & Mark if interested in helping to find Classmates)
Karen Sharp
Jane Short, Friday Night "DutchTreat" Get-together Chairman
Wes Stripling
Jan Huff Taborsky, "Classmate Search"
Trish McInnis Thomas, Hotel Arrangements Chairman
Trey Thompson
Cindy Leonard VanDam
Allen Walker
Lahoma Waldon White
Michael Williams, "Classmate Search"
Lynn Byington Wood
Ron York, "Classmate Search" Keeper of the Master List
Still time to join the fun!
If you can come, we promise you don't have to commit
to doing anything other than just have fun!
RSVP to: 45th Reunion Committee
________________________________________

A quick way to catch up with everyone
is to read their PROFILE page!
Have you filled out your page?
Have you uploaded some current photos?
Remember to click "Save Changes" at the bottom of your Profile page!
Leave a Message. Share a Memory
Check out the map of Where We All Live
Remember those we've Lost.
Listen to some Tunes.
Write a Suggestion,
and
See who has become a 45th Reunion Underwriter!
Let's spread the word & continue to find
as many classmates as we can
before our 45th & 50th reunions!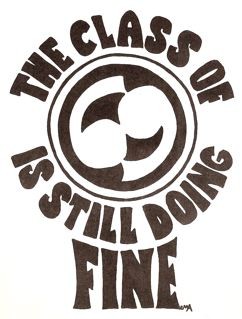 We're glad you found us! Best of all...
WE'RE OPEN 24 HOURS!